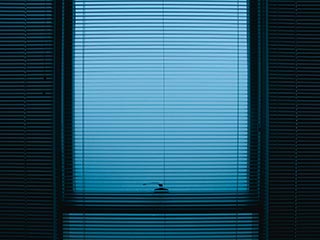 These traditional window treatments have earned their popularity for centuries, and even with modern innovation and remote control, they manage to maintain their top spot by integrating wireless motorization and combining the new tech with classic looks.
Should You Get Venetian Blinds Installed?
The answer to this question ultimately comes down to your specific needs. Different window treatments can suit different people according to the room or space they need them for. Venetian blinds offer a lot of possibilities and serve as a great shading solution for a wide range of rooms. Their vaned structure provides a lot of versatility and lets you adjust sunlight levels very well, for example.
Venetian blinds – Best Blackout Bedroom Blinds?
Using a structure of overlapping vanes, blackout Venetian blinds can make for a perfect solution for Long Beach bedrooms. It's very important to control light levels in any room where people go to sleep. With blackout Venetian blinds on your bedroom windows, you can ensure you get excellent sleeping conditions even when the sun is still out. This in turn helps you rest better every day and makes you less groggy. Keeping your mood up and stress levels down is a great way to avoid needless strains on your health.
Consider Motorized Venetian Blinds For Windows
Modern technology now enables even classic blinds like Venetian window treatments to adapt to the new age while still maintaining their traditional look. With wireless motorized Venetian blinds, you can easily control sunlight levels in any room without lifting more than a finger. And if you connect smart Venetian blinds with remote control features to your home IoT, you don't even have to use a finger. Motorized Venetian blinds have become one of the most popular options nowadays and for very good reasons. Our experts will happily explain more with a free consultation.
Need New Venetian Blinds For Long Beach Windows?
Get in touch with the team and we'll arrange a free estimate at your address on Venetian blinds or any other type of shading solution you need. Our experts help customers find the perfect blinds for them, and we install custom-built window treatments to ensure our Venetian blinds and all other types of coverings fit perfectly over the intended surface area. Call us to schedule your no-cost consultation to learn more.