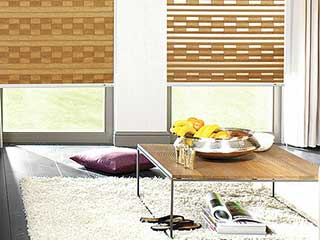 When you want to maximize natural light without letting in any unwanted glare, sheer shades are one of your best options. Because these coverings combine the best aspects of window blinds and shades, they offer unparalleled light control and make a great addition to any room. Available in a wide range of design options to suit any décor, custom made sheer shades could make for perfect window coverings that can benefit any home or office.
Problems With Other Coverings
What do sheer shades offer that other window coverings don't? Well, let's say it's a sunny day and you need to close the blinds in your living room. You quickly find that although most of the light is kept out, the gaps between the vanes allow rays of piercing sunlight to get through - if you happen to be sitting in one, you end up squinting due to the excessive glare. Eyestrain is a major concern and should be taken seriously. To keep these harmful sun rays out you'll have to close the blinds even more, losing all that warm natural light.
How Sheer Shades Help
Sheer shades work by combining blinds with a shade-like material that cuts out glare significantly. This means you won't have to worry about rays finding their way through the gaps; they'll be caught and diffused by the shade material. Consequently, you can have your blinds more open, and as a result you'll get much more natural light in your room.
Choosing Your New Window Shades
You could be forgiven for thinking that such a specialized window covering would limit your choice. However, custom made sheer shades can be designed in a huge range of styles and from all sorts of synthetic and natural fabrics. You won't be stuck for choice - you'll have access to the same great range as if you were choosing standard window treatments.
Sheer Shades – The Perfect Décor Enhancement
Any home can stand to benefit from sheer shades, which allow you to let in more natural light than you would otherwise be able to. Apart from improving natural lighting conditions, these window coverings also contribute to the décor of the room. They look great and really improve the surrounding design with their clean and aesthetic look. Make your home feel more spacious and airy by getting these functional shades installed. Get in touch with Long Beach Blinds & Shades today to learn more via a free consultation at your home.