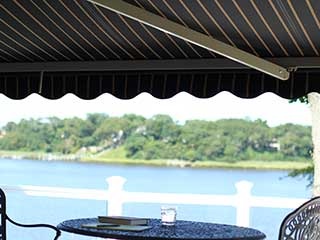 Some patios have a roof over them to provide static cover. It's a reliable solution, but also an inflexible one, and it doesn't always agree with your desired home aesthetic and atmosphere. With deployable patio covers, you can change your amount of shading and coverage at will. If you opt for one of our motorized patio shades, adjusting it won't even take any time or effort! `There are several types of patio shades to choose from. The best kind for you depends on how much space you have to work with and how much structural support is already there. Choosing new patio covers provides a method of protecting outdoor spaces from harsh sunlight and other elements. By adding new patio shades to Long Beach backyards, decks, or other exterior areas you can add to the aesthetics too.
Pop Up Canopies And Sail Shades
The simplest option is also the most labor-intensive. A pop up canopy is more or less a tent roof or tarp stretched overhead. This outdoor canopy fits around a set of frames, with the fabric sheet rolling back to expose the skeleton and let in the sun. Motorized patio covers of this kind use a roller mechanism similar to those used on windows. Sail shades, meanwhile, are unframed fabric sheets that attach to preexisting structures on the building or patio exterior and stretch taut. These are cheap and take up very little space, but most versions require manual adjustment. Motorized sail shades usually have a central stand or partial framework, making them hybrid systems. For simple and elegant covering solutions, our Long Beach pop up canopies and stretched sail shades provide fantastic choices. Choose the coverage for outdoor decks and patios that best meets your needs.
Freestanding Patio Shades
The other major option (besides a plain old roof) is the freestanding patio shades style. These motorized patio covers stand entirely on their own, without needing any existing structure to attach themselves to. If you have a detached patio or deck area, these are your solution! Freestanding patio shades rotate or extend in place to form a temporary "roof" when needed, and fold back away when you want to enjoy the open sky. Getting freestanding shades for a Long Beach patio provides a great enhancement of the outdoor space. These are also some of the most frequently motorized patio covers. And they're often heavy enough to outright require it.
Motorized Awnings and Patio Shades For Long Beach
Awnings just out from the side of a building with little to no other support pylons. You can think of them as the opposite of freestanding patio covers, in that sense. Much like them, awnings are made much more convenient with the addition of motorized rollers. You can control your motorized patio shades or awning with an indoor wall console, a remote control handset, or even a smartphone app. Awnings make great adjustable patio covers for storefronts, backyards, and children's play areas as well as general-purpose patios. Most of these systems are battery-powered to avoid the need for outdoor wiring or intricate electrical inspiration. These same factors make solar powered patio shades a perfect fit for Long Beach backyards and alike. You can save money on energy and also add the utility of shading and aesthetic touches.
Custom Designed Patio Covers
Consult with the expert team here and see what sorts of outdoor shades and canopies best suit your patio or decking. You can have manual or motorized patio covers of any style custom-made just for your home or business at very affordable prices. We provide free estimates and consultation on patio covers to all nearby Long Beach area customers. Use our experience and expertise to find new patio covers for any commercial or residential spot. Learn more by booking a free estimate appointment.