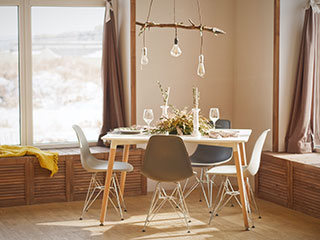 The twentieth century introduced us to motorized blinds as a concept, but the last couple of decades have really brought them into their own. Thanks to new technology, the option to have wireless motorized blinds makes these time-and-money-saving systems more aesthetically appealing and easier to accommodate. With motorized smart systems, your window blinds can even take care of your house or office for you! Just about any style of window blinds or shades is fit for motorization. It all depends on what your needs are, and what décor you're going for with the room in question. You can add motorized window blinds to your Long Beach residence or to commercial spaces. The variety of designs and custom-made window covering options allows for a huge range of options.
The Basics Of Motorized Blinds
If we're being inclusive, any blinds that are drawn, slid, or rotated by a machine rather than by hand are motorized blinds. In practice, most motorized blinds today are remote controlled with either a dedicated handset or with a smartphone app. Some are still plugged into a wall outlet or wired into the building's electrical network, but battery-powered blinds are becoming more popular. Along with the range of extra features specific to motorized blinds, like timers, sensors, and smart systems, you have a ton of stylistic options. Vertical blinds for long windows, blackout blinds for bedrooms and studios, covered sheer shades for extra elegance – they can all come motorized! Blinds for windows of your Long Beach home or business need to look good and work great. With motorized window coverings, you can get both!
Wireless Remote Control Window Blinds
So what sorts of extra features for motorized window blinds are we talking? Well, we're so glad you asked! Motorized window blinds open a bunch of time and effort saving options. Over a long period, they also turn into money-saving options! If your window treatments open and close themselves on a timer, you're never at risk of suffering wallpaper or furniture damage by forgetting them. There's also the matter of heating and cooling. It might sound counterintuitive, but motorized window blinds can reduce the electricity bill of your Long Beach property. Most of a building's unwanted heating and cooling happens through its windows. Smart blinds can adjust themselves as needed using a light sensor or a smart system that follows the local weather reports. The blinds end up using less power than you'd spend heating or cooling the place after the fact!
Save Even More Electricity With Solar-Powered Blinds
A device that sits in the window all day makes an obvious choice for solar energy power. If reducing energy consumption is a big priority, then solar-powered motorized blinds are the choice for you. A set of blinds is already made of adjustable, rigid slats, just like the panels of a solar energy farm. Slapping some photovoltaic strips onto the outsides and feeding them into the battery is a simple engineering process, which means it's also a cheap one! Solar-powered cordless blinds are elegant, environmentally friendly, and very financially helpful in the long run.
Styles And Decoration Schemes
Last but not least, we come to the aesthetics question. Motorized window blinds can look like almost anything. Our custom design service includes fashioning window blinds in any color or pattern you can imagine, from a wide range of materials. A soft fabric covering over your motorized blinds gives them a delicacy that belies their sturdiness. Wood or faux-wood paneled window blinds complement a retro aesthetic or provide a contrast to softer-looking furnishings. An advantage of battery-powered blinds is the lack of wires and cords to ruin the look you want.
Motorized Window Blinds For The Long Beach Area
Choose whichever form of automatic window covering solution you like best. You can go with electric blinds with smart Wi-Fi remotes or motorized roller shades that offer a smooth and soft design. Consult with our professionals to get started on your own set of custom motorized blinds with any sensors, remote control systems, or stylistic additions you want. And all at the lowest prices around. So let us hear from you. Call and schedule your free estimate with a local Long Beach motorized blinds and shades experts close to you.