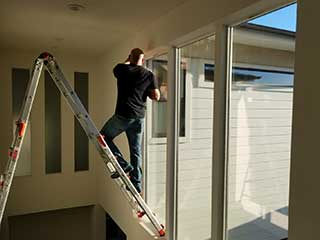 When you're looking to complement the interior design in your home or office with a window treatment, settle for nothing less than the best. Our experts at Long Beach Blinds & Shades will assist you in choosing the perfect window coverings for your needs and budget. Choose from our wide range of blinds, shades, shutters and custom options, including remote-enabled motorized solutions. We're only a call away!
Skilled & Knowledgeable Workforce
Let our window treatment experts handle your next project. Our team is our proudest asset and will work with you to ensure you're completely satisfied with our products. They'll not only help you navigate through our selection of high-quality window treatment, but will also help with the installation process, if needs be. You'll be fully satisfied with our work from start to finish and will be glad you've come to the right place for expert window treatment products and installation.
Tailored Service You Can Rely On
Long Beach Blinds & Shades will guide you every step of the way - from selecting the right blinds and shades from our wide range to taking measurements and having your new treatment installed. Give us a call today to discuss your individual style and preferences. Our window treatment experts will narrow down your quest or customize your treatment based on your energy efficiency, light control, and privacy preferences.
Products You'll Cherish
Our team has been the leading retailer of top-quality products at the most competitive prices for more than a decade and knows what an exceptional customer service entails. Shop with confidence from our wide selection of vinyl blinds, vertical blinds, Roman shades, layered shades and much, much more. When you're looking to improve your interior with functionality and beauty of quality window coverings, our team is your one-stop shop for the best products.
Here for Your Installation Needs
Your window coverings will play a major role in the style and comfort of your home. Therefore, make sure you have your own installed correctly. Our team of technicians will ensure your coverings are installed properly so that you can enjoy their beautiful design for years to come. Regardless of the type of window coverings you're looking, our experts will install them correctly and on time - even if you've opted for a custom option.
Contact Us Anytime
What's the perfect window treatment for your nursery? What shades to go for when you're looking for a minimalistic feel? How do you cover the high-reaching windows in your Long Beach office? Our team has all the answers. Give us a call today and let's discuss your project in more detail.
Here's why we're the best in business across LA:

Affordable Prices

Superb Customer Service

Excellent Warranty Policy

Reliable Installation Services