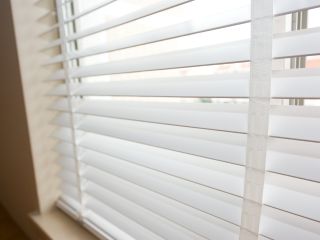 Welcome to Long Beach Blinds & Shades, your trusted source for exquisite faux wood blinds in Long Beach. We offer a wide range of high-quality faux wood and wooden blinds, expert installation services, and invaluable advice to enhance your interior space. Our expertise extends to motorization solutions, employing top-tier brands like Somfy and Lutron to automate your window treatments seamlessly.
Faux Wood Blinds: A Touch of Elegance for Your Space
Our faux wood blinds stand out for their timeless appeal, offering an elegant alternative to traditional window treatments. Here's why you should choose faux wood blinds from Long Beach Blinds & Shades:
Authentic Wood Look: Our faux wood blinds mimic the natural beauty of wood grain, giving your space a warm and inviting ambiance without the cost and maintenance associated with real wood.
Durability and Longevity: Unlike genuine wood, faux wood blinds are resistant to moisture, making them ideal for kitchens and bathrooms. They won't warp, crack, or fade over time.
Affordable Luxury: Enjoy the sophistication of wood blinds without breaking the bank. Our faux wood blinds are cost-effective while maintaining a luxurious aesthetic.
Customization: We provide an extensive selection of styles, colors, and textures to complement any interior design, whether it's residential or commercial, indoor or outdoor.
Easy Maintenance: Cleaning faux wood blinds is a breeze – a quick wipe-down with a damp cloth keeps them looking brand new.
Energy Efficiency: Faux wood blinds offer superior insulation, helping you regulate the temperature in your space and reduce energy costs.
Free Consultation and Installation
Long Beach Blinds & Shades goes beyond providing exceptional products. We offer a free consultation to help you choose the perfect faux wood or wooden blinds, taking into consideration your unique preferences and the specific requirements of your space. Our experienced team will guide you through the selection process, ensuring you make the right choice.
Our professional installation service guarantees a seamless and stress-free experience. We take care of everything, from precise measurements to expert installation, leaving you with beautifully dressed windows that enhance your space.
Discover Your Perfect Window Treatments
Whether you're looking for faux wood blinds, wooden blinds, or any other window treatments, Long Beach Blinds & Shades is your one-stop destination. Our team is dedicated to helping you choose wisely and elevating your interior space.
Contact us today for a free consultation and take the first step towards transforming your windows with the timeless elegance of faux wood blinds.