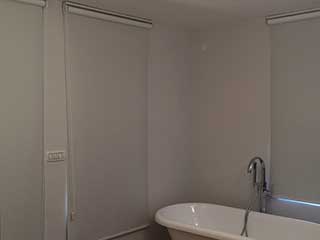 Having your new shades installed with some automatic motors is more than just a luxury. Motorized shades are a great tool for home and business management, a money-saver when it's time to pay the electricity bills and potentially a life-saver if you have very young children around the place. Long Beach Blinds & Shades provides motorized versions of nearly our entire custom-made window coverings styles.
Home and Business Management
With the array of convenient control options that motorized shades present you with, you have perfect, moment-to-moment control over what each of your windows is doing, all with a greatly reduced cost in physical effort and mental energy. Our products can be set up with remote control handsets, timers that can be set to automatically open and close the shades at certain times of day, and with sophisticated sensors that react to sunlight and temperature.
A Money Saver
Forgetting a shade up or down is all too easy to do, especially if you own a large property with many windows. Incidents like this can take a literal toll with your heating, air conditioning and furniture or wallpaper maintenance expenses. Automatic shades can be programmed to open and close when needed regardless of whether you remember and are on hand to do it yourself. The cost of the motors and the electricity they require are likely to fall behind the cost of not having them as time goes by!
Potentially a Life Saver
Babies, toddlers and pets are all at risk of choking or strangling themselves on the hand-drawn cords of traditional unpowered shades. Automatic shades are cordless and therefore present no threat to the little ones at all. This makes for a much less anxious and more secure residential space, and is practically indispensable for daycares, pediatric offices and other places where children will be around in large numbers.
Order Your Shades Today
Call Long Beach Blinds & Shades and get your window treatments custom made and delivered ASAP. We'll be happy to hear from you!