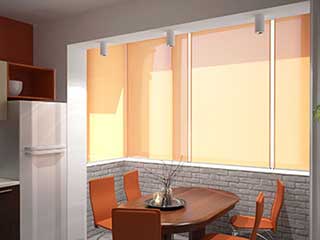 There are a lot of design and color options to choose from with window blinds and shades. One of the more versatile yet simple covers you can choose is roller shades. These coverings operate in a very simple way and can fit perfectly over windows of all shapes and sizes. Their simple build and easy operation make them excellent for all sorts of properties, residential and commercial.
Custom Made To Give You Shade
Different types of window coverings have different advantages that make them suitable for specific applications. Roller shades, with their simple operation and build, can suit practically all types of rooms. This versatility is owed to the fact that you can customize your custom made roller shades to use any color, design, and fabric you want. They can easily complement the interior décor of any room, both in a residential home and a commercial business.
How Roller Shades Work
The name pretty much says it all. While there are window shades that operate in more elaborate ways, like Roman coverings and various types of blinds, roller shades, by far, possess the simplest design. They don't have vanes or extra layers of cells or slats. They consist of a round bar (on which they roll) and a sheet of fabric that goes up and down to cover or reveal the window. This is roller shades in their most basic form. Of course, there are all sorts of variations that can add various other features.
Choose The Fabric For Your Needs
Sheer roller shades make for an excellent addition to rooms in which you want to utilize sunlight but also have some privacy. By using sheer fabrics, you can get both with a single sheet. Sheer roller shades also reduce glare and provide UV protection, which will help you keep your walls and furniture from fading. With opaque roller shades, you can create blackout conditions inside the room, as well as achieve complete privacy. The simple build allows you to choose exactly the type of fabric you want with no extra efforts involved in the crafting or installation.
Motorized Roller Shades
Most window treatments can be automated, but roller shades are the easiest coverings to motorize. Their operation is as simple as it gets, so adding a motor and wireless controls is very easy. You have your choice of methods as far as control options go. With Somfy and Lutron products you can choose anything from smartphone control to voice commands and old fashioned remotes or wall switches.
Get More Information
Not sure whether roller shades will fit your needs and budget? Long Beach Blinds & Shades offers free consultation appointments to help you not only understand window treatments better, but to design your new custom made roller shades (or any other covering option you want). Contact us today to set up an appointment.