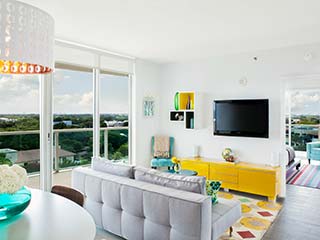 Modern motorized shades are a brilliant and easy way to bring convenience into your property, whether it's your home or business. The big bonus of adding Lutron motorized shades to Long Beach properties is that, while they look great, they also give you a ton of flexibility and utility. The amazing range of custom window coverings we provide includes blackout and sheer shades, motorized for your convenience. You can always choose how to control Lutron shades' silent motors, using a range of different techniques.
A simple wall switch might be ideal, combined with a remote control to operate the system. How about a cutting-edge smart shade that works with WiFi, though? Lutron shades link to your home system and let you control them from your smartphone. That's a huge benefit and makes it really easy to keep your property comfortable at all times. Free estimates on all Lutron shade solutions make it simple to find the perfect system for Long Beach glass walls and windows.
Smart Lutron Motorized Shade Controls
Convenience comes with innovative solutions like motorized Lutron shades. A subtle wall switch, mounted in a convenient place, is a really effective way to control the natural light levels in your room. Remote controls are another great option. The harsh sunlight coming in and causing a headache for your guests? Just pick up the control and adjust the Lutron shades to the proper position, with no hassle. Even better, you can do all this without ever lifting a finger. With automatic temperature and brightness sensors, Lutron shades can detect when they need to open or close. Because these window coverings come in a range of different materials, from sheer to blackout, they also create a range of effects. Get subtle ambiance with sheer shades, or a nice dark, private room with blackout materials.
Low-Cost Lutron Shades – Long Beach Motorized Window Coverings
No matter what style or color of window coverings you're looking for, Lutron shades have it in spades. Elegant designs, combined with the latest silent motorization technology, make these window coverings the premier choice for Long Beach area apartments, workplaces, homes, and more. To get started, contact our team for a free in-person consultation and estimate on Lutron motorized shades!