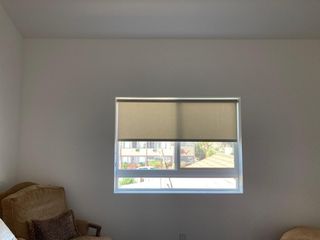 Roller shades are a popular and practical window treatment option that can provide a range of benefits for your home. If you're considering installing roller shades, it's important to weigh the pros and cons to determine if they are the right choice for you. In this blog post, we'll explore the advantages and disadvantages of roller shades to help you make an informed decision.
Pros of Roller Shades:
Light Control: Roller shades offer excellent light control, allowing you to adjust the amount of light that enters your room. You can choose from different opacity levels, including sheer, semi-opaque, and blackout fabrics, depending on your preferences.
Energy Efficiency: Roller shades can help to reduce your energy bills by providing insulation to your windows. This can keep your home cooler in the summer and warmer in the winter, saving you money on heating and cooling costs.
Privacy: Roller shades can also provide privacy for your home, blocking the view from the outside. This is especially useful for ground-floor windows or windows facing a busy street.
Easy to Clean: Roller shades are relatively easy to clean and maintain. You can simply wipe them down with a damp cloth or use a vacuum cleaner with an upholstery attachment to remove any dust or dirt.
Cons of Roller Shades:
Limited Style Options: Roller shades are available in a variety of fabrics and colors, but they may not offer the same level of design options as other window treatments, such as drapes or blinds.
Limited Durability: Some roller shade materials, such as vinyl or paper, may be less durable than other materials, such as fabric. This can result in the shades becoming damaged or worn over time.
Limited Light Filtering: While roller shades can provide excellent light control, they may not offer the same level of light filtering as other window treatments, such as sheer curtains or blinds.
In conclusion, roller shades offer several benefits for your home, including light control, energy efficiency, and privacy. However, they may not be the best choice if you're looking for a window treatment with a wide range of style options or maximum light filtering. Ultimately, the decision to install roller shades depends on your personal preferences and needs. Consulting with a professional window treatment expert can help you make the best decision for your home.