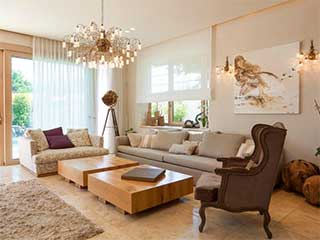 In recent decades, Roman shades have become incredibly popular. But these window coverings originate in far older times, as you can guess from their name. These innovative covers for windows have lasted through the years due to their timeless design and ability to adapt to modern trends. There's a whole slew of different designs you can choose from with custom made Roman shades, so there really is something for everyone with these folding coverings.
Ancient But Current
Although Roman shades are one of the older types of window coverings, they can be made in all sorts of styles. From pleated fabric folds that hang like drapes to fishtail designs that give the shades more character and make them stand out even when fully open. The neat stacks Roman shades fold into when opening make them have more charm than average roller shades. This is why they're often preferred by those looking for a drape/blind combo, especially for areas of your home where you want to impress guests.
Fabric Roman Shades
A major area of versatility with these window coverings is the type of fabric you choose. If you want to diffuse sunlight but not block it completely, then light filtering Roman shades are an excellent choice. Even when fully closed they'll still let some natural light pour inside. Alternatively, you may be looking for something with an elegant design for your bedroom. Blackout Roman shades are excellent for that purpose, as they will block sunlight when fully drawn, and will look great when open.
Consider Automating Your Roman Shades
Another very popular choice is motorized Roman shades, which, when hardwired, can move smoothly and elegantly, even when multiple sets are involved. The folding method of these Roman-styled coverings is unique on its own, but when you couple that with motorized shades, you get a truly beautiful operation that looks downright magical.
Cordless Roman Shades
If you're not inclined to join the 21st century with motorized window shades, you still have other methods of operation that don't involve dangling strings. If you have a small child at home, you'll probably want to avoid wand-operated or chains dangling from your shades. Cordless Roman shades give you the simplicity of roller coverings with the special stacked design that makes these folding sheets so popular.
Find Out More
If you're thinking about getting custom made Roman shades for your home or for your business, do yourself a favor and give us a call. Long Beach Blinds & Shades offers free consultation appointments to help every nearby property owner find the window coverings that best fit their needs and match their interior décor. You can design a set of Roman shades that answer all your requirements and work exactly how you want. Contact us to learn more about these beautiful coverings with a face to face consultation.