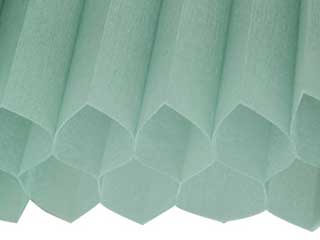 You might be wondering, what do cellular shades offer that other window coverings don't? Well, a lot, for starters. The main attraction of cellular shades isn't their sun blocking capabilities (although those can be significant if you opt for the right combination of fabric and thickness). Their main goal is to prevent heat transfer and help you save your HVAC unit time and effort. This translates to saving you money in the long run, especially since you won't have to continuously cool or warm your home through the cold and hot winter and summer months.
So How Do Cellular Shades Work?
It's quite simple, really. These shades are built in a specific design that allows them to create pockets of air. This buffer, in the form of cells of fabric, traps hot air and keeps it from escaping out the window. It those the opposite during summer, and serves as a barrier of entry for hot air from outside. That's why cellular shades, especially custom made ones, are so good at maintaining the indoor temperature. In addition to this, they can also reduce noise from the outside world, which is especially important if you live near a crowded street or some high traffic area.
A Lot To Choose From
Cellular shade can be made to fit your needs and the size of your windows without any extra effort. They come in single or double cell shade variations (and even triple if you want). The cells themselves can be made in a range of sizes, to suit the dimensions of the window and to maximize their heat loss prevention efforts. In addition to this, by choosing the right type of fabric for your cellular shades, you can ensure that you truly get the most out of them. For extra sun blocking and enhanced privacy, a more opaque fabric will do the trick. For those who want to reduce heat transfer but still have the option to use natural lighting to illuminate their indoor area, sheer cellular shades with light filtering fabric will be an excellent choice.
Motorized Cellular Shades
Apart from choosing the materials for your new insulating window coverings, you should also think about how you'll raise and lower them. Cordless cellular shades are a good choice if you have young children and you don't want cords or ropes dangling from the windows. If you're interested in that, or in more convenience, then motorized cellular shades are definitely worth your consideration. Not only can they be customized the way manual coverings can, but the addition of Somfy or Lutron motor and control methods allows for a truly smart home system. With wireless shades, you can use anything from a remote handset to voice commands to adjust how much sunlight gets through.
Want To Know More?
Find out everything you want about custom made cellular shades by scheduling a free consultation with an expert from Long Beach Blinds & Shades. Learn about the different combinations of sheer and opaque fabrics with various layers of cells and designs. With a simple free consultation, you'll learn everything there is to know about these window coverings.