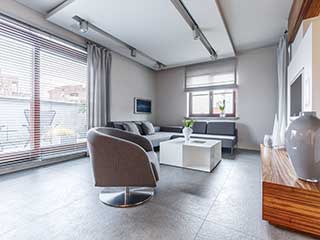 Any home can benefit significantly from the installation of motorized window coverings. These systems are a great way to enhance any room, providing your kitchen, bedroom, living room, bathroom or home office with better convenience, privacy, security and economy. Here's why we believe motorized shades have a place in any home.
Save Money On Bills

Natural light plays an important part in the temperature of your home. Depending on the weather outside, an uncovered window can either let sunlight stream through, or internal heat dissipate through the glass. Few people have the time or inclination to open and close their coverings throughout the day, but motorized shades can do it on their own. A combination of light and temperature sensors can move the window covers up or down to keep your home at a constant, comfortable temperature, helping you save up on energy bills.

Better Home Security

An unoccupied home is a target for thieves, but motorized shades can disguise the fact that you're away. Timers and remote control apps allow you to simulate the appearance of an occupied home no matter where you are, discouraging would-be intruders.

Improve Your Home's Privacy

Ever gone to bed, or off to work, and realized you've left the blinds open? With modern remote control apps it's simple to close them wherever you are, so you won't have to worry about nosy neighbors looking in at your home.

Unbeatable Modern Convenience

Modern motorized shades are extremely convenient to use, and can be controlled in a wide variety of ways. Many options are available, including central wall-mounted controllers, smartphone apps, timers, sensors and wireless remote controls. Whatever system works for you best can be fitted.

Easy To Install

Best of all, fitting custom motorized window coverings into your home is almost as straightforward as installing non-motorized units. Available in both wired and wireless versions, our wide range of systems can be installed anywhere in the home, with a wide range of styles and designs to suit your personal tastes.
In a nutshell, motorized shades can bring a touch of modernity and simplicity to your home.To find out more about the different options available to you, and to book a free consultation, get in touch with Long Beach Blinds & Shades today.