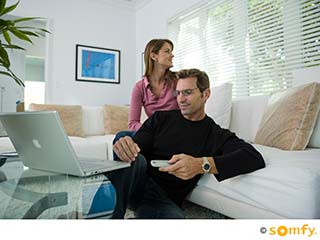 If you're looking for aesthetically pleasing window blinds with smooth automatic openers, Somfy has some of the best options. These products come in a huge diversity of designs, styles, and textures, for any level of light control you might prefer. Somfy blinds work by remote control, wall console, or more advanced computerized smart systems that practically manage your house for you. It's your choice which style you'd prefer! Our Somfy blinds installers in Long Beach can get you started with free consultation and estimates!
Larger Windows Can Use Rolling Shutters
Thanks to Somfy's powerful, highly efficient operator systems, even heavy shutters move without making a sound. This means that you can set your rolling shutters to open and close even in the early mornings without waking anyone up. Sometimes, privacy is your biggest concern, and when that's the case you are best off with full window shutters. In addition to keeping out light and prying eyes, you can ask us about sound-dampening shutters that repel noise as well.
Motorized Indoor Window Blinds And Shades
Window treatments are ancient, but there's no reason not to bring them into the modern era. With Somfy's voice controls, wireless smartphone commands, and domestic network connectivity, your blinds can manage themselves! Motorized smart blinds are more than just a time and effort saver. They can actually keep your house in better shape and save you money! People spend much more than they need to on heating, air conditioning, and sunlight damage repair. With a smart motorized blinds system, the computer will always keep the sunlight out or let it in just when each room needs it. Your classy Roman shades or sliding vertical blinds will always be where you need them when you need them!
External Motorized Patio Shades and Canopies
Somfy doesn't just produce inexpensive, high quality window coverings. Our products also include patio covers, pergola canopies, and pop-up shades for decks, gardens, and more! Somy outdoor shades have the same range of features as the indoor window blinds and the same customizability. Our manufacturing team will adjust your choice of canopies or outdoor shades to your Long Beach patio or lawn pergola. You can choose solar fabric, contiguous shutters, or anything in between!
Best Somfy Blinds in The Long Beach Area
From houses to offices, restaurants to workshops, any building can benefit from some high quality motorized blinds. Set up your free consultation session, and let us help you pick and customize the exact Somfy shading solutions for your property. Near Long Beach? Call to schedule your free estimate before ordering new custom made Somfy motorized blinds!