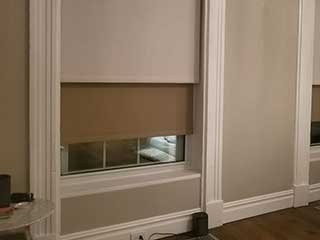 The most protective window treatments we produce are our custom-designed blackout blinds. These soft, foam-backed fabric blinds are the best option for sunlight and privacy protection. Blackout blinds are suitable for Long Beach homes and businesses alike.
Opaque And Airy Window Treatments
Blackout blinds let in as much air and light as any other fabric blinds when open, and don't take up as much space or break up the décor like shutters. When you close your blackout blinds, they keep any and all light from getting through. The word "blackout" means that the blinds are lightproof, not that they have to be black or even dark-colored. Long Beach Blinds & Shades's products come in every hue and shade, and with any customization option you can think of!
Blackout Blinds – Office Windows
Blackout blinds for office windows are in high demand in Long Beach. Glaring sunlight can ruin office carpeting and furniture. Worse, computer screens and other electronic devices are damaged by prolonged sunlight, and even in the short term, you don't want to stare into a reflected glare. A more comfortable workplace makes employees and clients more likely to return, and blackout blinds are one more bit of comfort. For long conference and waiting room windows, we can fit you with vertical blackout blinds. Aside from making an easier fit for long windows, sliding vertical blinds convey an air of professionalism that little else can match.
Long Beach's Perfect Blackout Bedroom Blinds
If there's one room in your house you want to keep sunlight out of sometimes, it's the bedroom. Blackout blinds for bedroom windows create a perfect rest environment, repelling light without feeling enclosed or stuffy. Blackout blinds will let you wake up, or fall asleep, to as much or little sunlight as you want. They also do a great job of protecting your privacy, and of preventing the sun from ruining your bed sheets and other delicates. Pick a color and style that matches your bedroom's décor, and we can get started making the perfect blackout blinds for you.
Blackout Roman Shades
If you want your blackout blinds to command attention, think about blackout fabric Roman shades. Roman shades are elegant, old fashioned window treatments. These shades fold into rippling pleats or relax into a smooth curtain depending on how you move them. For extra decoration, our Roman shades can include a range of embellishments and extra detailing. Some lacy trim or hanging tassels or slits can bring the hem of your shades to life. Embroidery and valences complement the pleats in turning your Roman shades into a work of art. Talk to our team about customizing your Roman blackout shades.
Automatic Motorized Blackout Blinds Options
Like most of our products, you can order our custom made blackout blinds in traditional or cordless styles. Motorized blackout blinds are safe for children and pets without any dangling cords. They also offer maximal convenience, as you can adjust them from afar with the push of a button. In addition to remote controls, our motorized blackout shades can include timers and environmental sensors.
Custom Blinds Near You – Free Quotes
Call Long Beach Blinds & Shades today, and get a custom blackout blind set fitted to any window or sliding glass door. We provide full delivery and installation services. And of course – free estimates and consultations before you buy! Call today to schedule an appointment.