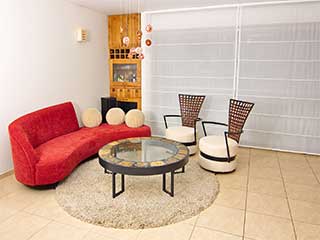 When it comes time to choose new window treatments for a room, there's a gigantic range of options available. But one of the first things to consider is whether you want new blackout blinds or light filtering shades. Each option offers different pros and cons, so it's worth it to understand what they are before you choose. There's a huge range of options between these two extremes, of course. For the best guidance and advice, you can contact the nearby window covering experts at Long Beach Blinds & Shades. Anyone interested in consulting experts on blackout blinds and light filtering shades near Long Beach can call us for a free consultation.
Privacy With Blackout Blinds
For those who want to not only plunge a room into darkness but also keep peeping toms and outsiders from peering inside, blackout blinds are great. As their name suggests, they're the type of window treatment variation you need when you want to ensure sunlight doesn't get inside when the blinds are fully closed. That's why blackout blinds are great for TV rooms and bedrooms, as well as office board rooms. They block sunlight to a near 100% degree. Some can even block it completely. The opaque attributes of the material involved is what allows these privacy adding blinds to do such a good job.
What Are Light Filtering Shades
These are basically window coverings made of sheer or semi-sheer fabrics that allow some sunlight to get through. Light filtering shades are great for living rooms and kitchens, where you probably want to utilize as much natural lighting as possible. They provide the ability to filter UV rays without completely blocking out sunlight. The light that gets through won't harm furniture and won't cause paintworks to fade. It will reduce glare significantly as well. It will illuminate the room and save you money on artificial lighting.
Room Darkening Blinds and Shades
These are considered a sort of middle of the road between blackout and light filtering shades. They darken the room, as the name suggests, due to the fact that the material they're made of isn't very sheer. But it's also not completely blacked out. Room darkening shades and blinds will still allow a little sunlight to filter through. But it will all but eliminate glare entirely, which makes them great for rooms with TVs and computer screens.
Do Light Filtering Shades Provide Privacy at Night?
Good question. During the daytime, light filtering shades will still provide some privacy. Although they let sunshine get through, they don't allow for completely unobstructed visibility from the outside. At most, people will be able to see silhouettes. However, during nighttime, when it's dark outside and the light is on inside the room, sheer light filtering shades will not provide much privacy. The light coming from inside the room will have a much easier time traveling through the shades to the outside. This can vary depending on the fabrics used to make the light filtering shades and can be mitigated considerably.
Blackout and Light Filtering Blinds Installers Near You
It's always good to go with local service providers. That's why calling Long Beach Blinds & Shades is a good idea. Schedule a free consultation and design a set of custom blackout blinds or light filtering shades that meet your needs perfectly.